JKYog Centers
Swami Mukundananda has established many ashrams, temples and local congregational centres in India and USA, in order to promote the authentic Vedic knowledge and provide community to the members; where they can freely practice spirituality and do selfless services of the society.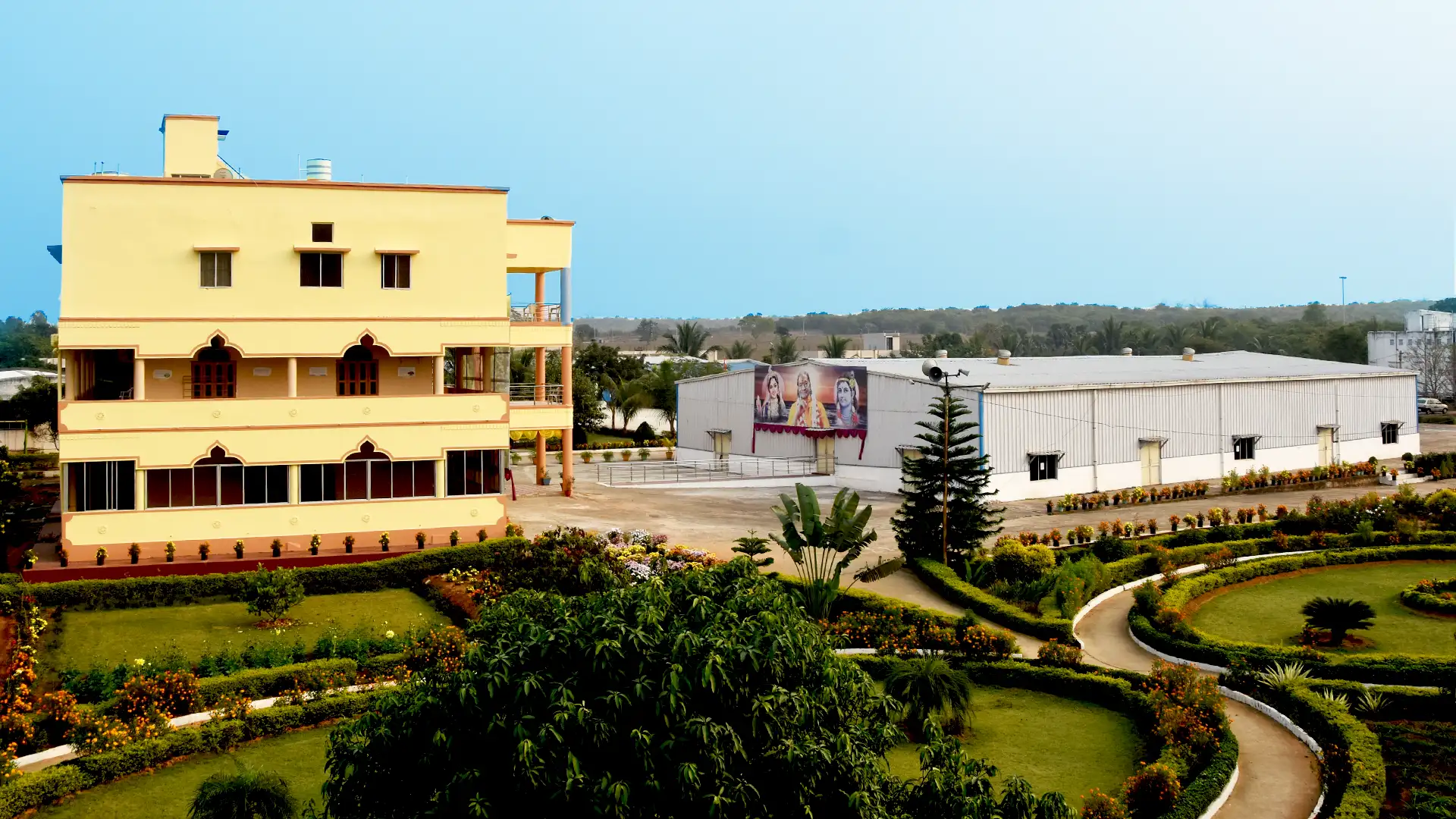 Jagadguru Kripalu Yogashram
JKYog headquarters, Jagadguru Kripalu Yogashram, Banara, Odisha, is a sacred sanctuary effused with devotional warmth, providing a tranquil haven for the unhindered pursuit of spiritual elevation. Spanning 100 acres amidst Chandaka forest and the Mahanadi River, it was established by Swami Mukundananda in 2008 and inaugurated by revered Jagadguru Shree Kripalu Ji Maharaj in 2012.
Banara, Via – Mundali Colony, Tehsil – Damapada
Cuttack – 754006 Odisha, India
Contact: +91-8448941008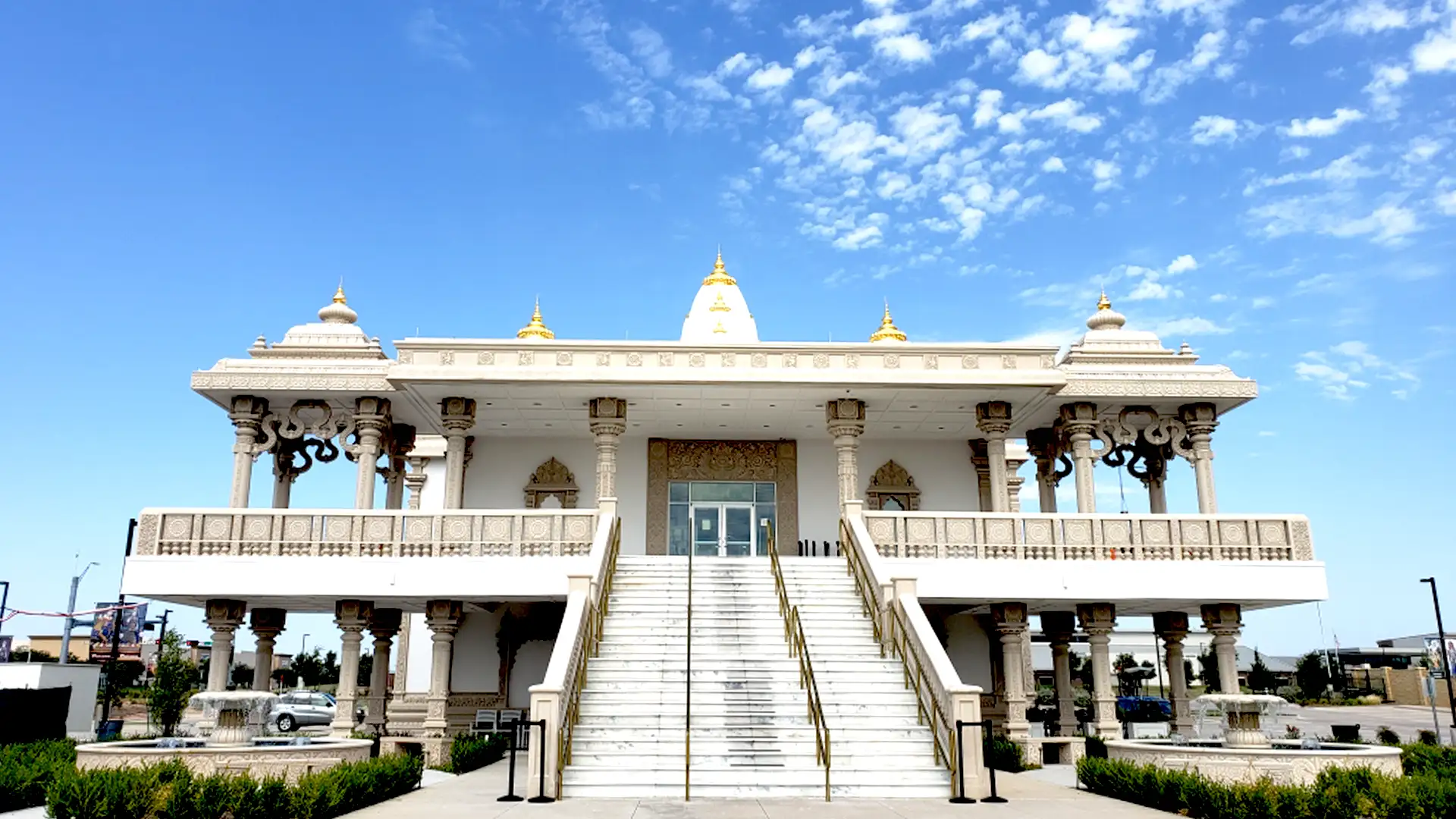 Radha Krishna Temple, Dallas
The Radha Krishna Temple of Dallas, JKYog headquarters in the US, founded in 2016 in Dallas, Texas, is a serene, culturally rich institution. It provides a peaceful space for spiritual reflection and community engagement. The temple, with exquisite architecture, is dedicated to Radha and Krishna worship. Throughout the year, it hosts cultural events, spiritual gatherings, and educational programs, fostering unity and spiritual growth.
1450 N. Watters Road,
Allen, TX 75013
Contact: +(717) 994-5410
Delhi & Gurugram
IP Extension
Navniti Apartments IP Extension
Sunday - 8.30 am to 10.00 am
Delhi - 110092
Vikaspuri
Sanatan Dharm Mandir F-Block, Vikaspuri
Sunday - 8.30 am to 10.00 am
Delhi - 110018
Ashok Vihar
Laxmi Narayan Mandir Ashok Vihar
Sunday - 8.30 am to 10.00 am
Delhi - 110052
Gurugram
B-41, First Floor South City - 2, Sohna Road, Gurugram
Haryana - 110018
Gujarat
Ahemdabad
Nilkanth Mahadev Mandir K.K. Nagar, Behind Rannapark Ahemdabad
Saturday - 8.30 am to 10.00 pm
Gujarat - 380061
Anand
Omkareshwar Mahadev Mandir Kripalu Hall, Mahadev Area Vidhyanagar Road, Anand
Sunday - 7.30 am to 9.00 am
Gujarat - 388001
Mehsana
Nil Kamal Society B/H Raj Kamal Petrol Pump Mehsana
Sunday - 4.00 pm to 6.00 pm
Gujarat - 384002
Palanpur
Hanuman Mandir, Near Bhagya Dip Mansarovar Road, Palanpur
Sunday - 4.00 pm to 5.30 pm
Patan
Badridas Maharajni Vadi Vehrai Chakla
Thursday - 8.00 pm to 10.00 pm
Vadodara
Dada-Dadi Udhyan, Atmajyoti Ashram Road, Race- Cross Circle
Sunday - 8.00 am to 10.00 am
Vapi
Ayyappa Hall Morarji Circle Ravishia Park GIDC, Vapi
Sunday - 7.30 am to 9.30 am
Odisha
Aska
Shyama Shyam Satsang Sunambo Sahi, Aska, Ganjam
Thursday - 6:30 pm to 8:30 pm
Sunday - 7:30 am to 9:00 am
Sunday - 7:30 pm to 9:00 pm
Athagarh
Radha Govind Mandir Athgarh, Cuttack
Sunday - 7:00 am to 8:30 am
Banki
Pradhan Mess College Road Banki, Cuttack
Thursday - 6 pm to 8 pm
Sunday - 6 pm to 8 pm
Baripada
Raghunath Jeu Math Baripada, Mayurbhanj
Sunday - 6:00 pm to 8:00 pm
Baripada
Radha Mohan Mandir Baripada, Mayurbhanj
Sunday - 6:30 pm to 8:00 pm
Betanoti
Laxmi Narayan Mandir, Betonati, Baripada, Mayurbhanj
Sunday - 6:00 pm to 8:00 pm
Bhanjanagar
Raghunath Mandir, Main Road, Bhanjanagar, Ganjam
Sunday - 6:00 pm to 8:00 pm
Bhanjanagar
Geeta Bhavan, Bhejiput, Bhanjanagar
Friday - 6:00 pm to 8:00 pm
Bhanjanagar
Hart Nagar, Hart Nagar, Bhanjanagar
Wednesday - 6:00 pm to 8:00 pm
Bhawanipatna
Jagannath Mandir, Palace Road, Bhawanipatna, Kalahandi
Sunday - 7.15 am to 9.15 am
Boudh
Bhagawat Mandir, Suda Sahi, Boudh
Friday - 7:00 pm to 9:00 pm
Chasakhand
Radha Govind Dham Chasakhand, Jajpur
Daily - 6:00 am to 7:00 am, 6:00 pm to 7:00 pm
Cuttack
Pratikshya Bhawan Mahanadi Vihar, Cuttack
Sunday - 6:30 pm to 8:00 pm
Cuttack
Radha Govind Mandir, Ranihat, Cuttack
Sunday - 6:30 pm to 8:00 pm
Cuttack
Kunja Bihari Math Chauliaganj, Cuttack
Saturday - 6:30 pm to 8:30 pm
Daspur
Radha Govind Dham, Daspur, Brahmapur, Ganjam
Daily - 6:30 pm to 8:30 pm
Dhenkanal
Raghunath Jeu Math, Jaunli Pokhari, Dhenkanal
Sunday - 7:30 am to 9:00 am
Gunupur
Soubhagya Ch. Patita's Residence, Shiv Shakti Lane, Gunapur
Daily - 6:00 pm to 8:00 pm
Hinjilicut
Maheshwar Senapati's Residence, Ramuni Street, Hinjilicut, Ganjam
Sunday: 7:00 am to 9:00 am
Humar
Radha Govind Dham, Humar, Brahmapur, Ganjam
Daily - 4:00 am to 5:30 am, 6:30 pm to 8:30 pm
Jajpur
Radha Govind Dham Govind Jeu Nagar, Jodi KuaChhaka, Jajpur Town
Mon to Sat 6:00 am to 7:30 am
Sunday - 7:00 am to 9:00 am
Malda
Radha Govind Dham, Malda, Jajpur
Daily - 6:00 pm to 7:30 pm
Paralakhemundi
Radha Govind Dham, Shyam Bihar, Station Road, Paralakhemundi
Tuesday - 5:30 pm to 7:30 pm
Thursday - 5:30 pm to 7:30 pm
Sunday - 5:30 pm to 7:30 pm
Paralakhemundi
Bada Radha Kanta Math, Jagannath mandir, Paralakhemundi
Saturday: 6:00 pm to 8:00 pm
Phulbani
B.K. Aggrawal's Residence, Opp. Govt. Girls High School, Phulbani
Sunday - 7:00 pm to 9:00 pm
Phulbani
Sraban Pandey's Residence, Phulbani Sahi, Phulbani
Sunday - 7:00 am to 9:00 am
Rairangpur
Radha Govind Dham, Naghman, Rairangpur, Mayurbhanj
Sunday - 7:00 pm to 9:00 pm
Sambalpur
Jalaram Mandir, Gujarati Colony
Sunday - 6:30 pm to 8:30 pm
Tikia
Radha Govind Dham, Tikia, Rairangpur, Maurbhanj
Daily: 6:00 pm to 8:00 pm
Others
Hyderabad
Radha Govind Dham
House# 11-5-334/1/A/1
Opp Red Hills Park, Hillpark Road
Red Hills, Hyderabad - 500004, Telangana
Ph: +91-9849437989/9848683456
+91-8074399019/8886842666
Indore
Maa Anandmayi Ashram 18, AB Rd, CRP Line, Indore - 452001, Madhya Pradesh
Sunday - 8.00 am to 9.30 am
Arizona
2897 E Red Oak Ct, Gilbert, Scottsdale, AZ-85297
Saturday– 5:30pm to 7:30pm
California
Radha Krishna Temple of Bayarea, 4411 Hyland Ave, San Jose, CA 95127,
Colorado
15675 Carob Circle, Parker, Denver, CO-80134
Connecticut Rocky Hill
38 Highland Street, Rocky Hill, CT-06067
Florida
14769 Sugar Cane Way Clearwater, Tampa, FL-33760
Illinois, Chicago
2991 Brockway Street, Palatine, Chicago, IL-60067
New Jersey
42 Bertran Dr, Bridgewater, NJ-08807
New York
104-15 95th Avenue Ozone Park, Richmond Hill, NY-11416
North Carolina
137 Anita Way, Cary, NC-27513
Every other Saturday – 4 pm-6 pm
Philadelphia
731 Russells Way, Warrington, PA-18976
Houston
42 Watermill Place, Sugar Land, TX, Houston, TX-77479
Virginia
13701 Black Spruce Way, Chantilly, VA-20151
Minnesota
7350 Gallagher drive, Apt#137, Edina, MN-55435 Minnesota
South California
1630 Carriage House Rd, Pasadena, CA-91107
Saturday : 4:00 PM – 6:00 PM